Ocamba's Guide to marketing campaigns for Black Friday
In this blog, you will learn all the relevant information about boosting your sales on Black Friday that have proven to be highly productive in practice. Choosing and implementing an adequate marketing strategy for Black Friday is key to the success of your business.
Tuesday, Nov 23, 2021 / Push notifications

E-commerce growth 
The Covid pandemic has affected everyone, especially the global economy. The pandemic has left an enormous impact on our daily lives and businesses. Even though some companies stagnated during the pandemic, online shopping has been booming. Planning and executing marketing campaigns online is not easy, but Ocamba is here to help you do that. What Ocamba allows you is to manage all of your advertising materials in one place. From observing your campaign performance to advanced targeting, optimization, and real-time reporting.
According to UNCTAD research, the e-commerce industry increased the share of online retail in total retail from 16% to 20% in 2020. 
Ocamba also allows you to send Push notifications to your subscribers to engage them in your Black Friday campaign. A well-planned Push strategy and the fair usage of the Ocamba features can help you boost your sales and increase customer retention rates.
Continue reading How to set up a well-designed marketing strategy - from successfully targeting users, personalization and leading to sales before the promo period ends.
The craziest day of sales is coming
Black Friday is known for exclusive deals and unbelievable discounts and sales among shoppers. For business owners, Black Friday means the busiest day of the year, both in-store and online. Forbes magazine states that 6.2 billion dollars were made from the online sales on Black Friday last year alone.
With the Covid pandemic prolonging, it comes as no surprise that users are more and more interested in online shopping since it's more convenient to buy from the comfort of your own home. One of the most important things to note when shaping the marketing strategy for Black Friday is that people use different devices for different purposes. But, what does that mean?
The research shows that almost 70% of all website visits in 2020 came from mobile devices. So it would be logical to assume that most of the purchases happened on mobile devices, but that is not the case. Desktop devices are still more preferred than mobile devices when it comes to online shopping. Users say that desktops have a better visual appearance of the product and are generally more user-friendly when it comes to the overview of your shopping cart and finalizing your purchase.
This shows that a good marketing strategy needs to have a synergy of Web and Mobile Push notifications, which is precisely what Ocamba offers you!
Boost your sales with Ocamba on Black Friday
Ad Serving
Ad Servers have revolutionized the digital advertising ecosystem because they allow marketers to manage all of their digital marketing campaigns and efforts in one place, from campaign planning to ad targeting and trafficking to ad serving, optimization, and reporting. 
Ad Servers have become the foundation of modern advertising, giving advertisers the tools to create, deliver, optimize, and monitor ads across all advertisement channels. The underlying idea of Ad Serving is to find the best matching ad to show to the visitor. Best matching ad means the ad that best accommodates visitors' search history, preferences and interests.
Push Notifications
Any offer that you want to promote will arrive on your customers devices (whether web or mobile) and show a timely promotion or reminder about discounts, products they are interested in (based on custom user data that Ocamba helps you collect).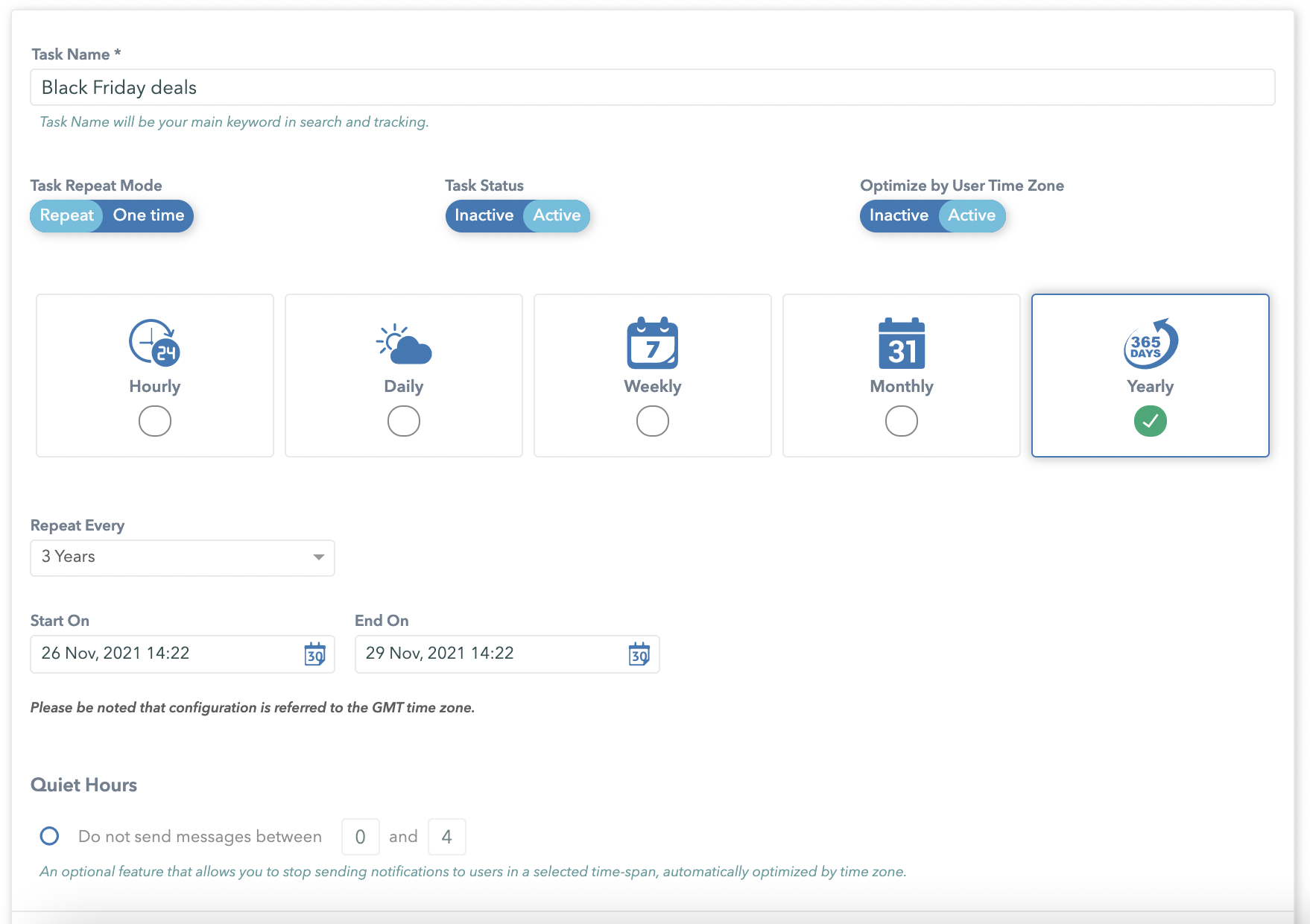 It's seen as the best way for marketers and companies to communicate with their users. You don't have to use your device or be in the app to receive it as a user. Since they can be sent at any moment, they became a tremendously popular feature for desktop browsers and mobile apps.
Extend the reach of your products/offers by using Ocamba's Optimize by User Time Zone feature which allows you to send notifications according to each user's time zone.
Push notifications' campaigns for Black Friday
1. Personalized offers
One of the essential rules in creating Push notifications is to create an appropriate notification for each user. This does not mean you have to make one Push per person. Instead, this means creating groups or segments of users and sending them notifications that will be seen as valuable and relevant. The second important thing to note is that you do not want to end up being spammy - so, avoid sending more than five notifications in one day as your users will probably deem them boring and leave them unopened.
When it comes to Black Friday deals, segment users based on various criteria: buyers/non-buyers, those who expressed interest in a particular product or category, those who added something to a shopping cart and left it there, etc. Once you make segments, it will be easier for you to create a Push strategy for each segment, thus sending meaningful notifications to users.

2. Promo codes
Since the discount is your main highlight of the weekend, don't forget to list it in all your automated notifications. Make it more accessible for users by adding a discount link in the CTA buttons. Consistency is the key here - you want to remind your users as much as you can about the incredible deals and discounts you offer during Black Friday.

3. Free shipping
Offer customers free shipping once they spend a certain amount of money in your online store. If you plan on having free shipping on every purchase, state it clearly by sending a notification to your users, as this will mean a lot for someone who wanted to make a small purchase but was hesitant because of the high shipping costs.

4. Reminders
Sending one Push before Black Friday won't make a change in your sales. But if you constantly remind your users about the deals you have, you will. Try using the words that bring a sense of urgency to users. You can add them in the title (the best option) or the body of the notification. For example, you can use these:
Hurry up. Only half an hour until the end of the sale!
Buy Now!
Don't miss the deal.
Unlock offers!
Buy before it expires! Last chance to buy!
Since the Black Friday sale is short-term, it is crucial to shorten the action time and bring back those who left something in the basket or just visited the site, looked at the products, but did nothing. 

5. Last pieces
Since the discount is the main highlight of the weekend, don't forget to emphasize just that in all your automated notifications. Make it easier for customers by adding a discount link that further leads to your landing page.
Your customers are sure to add items to their wish list, hoping to get back to them later. You can upgrade the urgency of buying these items during the Black Friday sale by letting customers know that the article on their wish list is a little out of stock or that the last piece that is just waiting for them is left. This relevant and timely message will give customers a solid reason to buy.

6. Up-selling and cross-selling
Send a "double bid" campaign to previous customers (or even just loyal and VIP customers), giving them great deals that will only be available to them. Such a campaign can help you better retain earlier customers. The campaign would include purchasing 1 + 1 products and thus bring an additional discount that would be significantly more profitable than individual items.
Encourage more purchases by cross-selling a new collection or product to customers who have purchased items that would fit well with the item they previously added to the cart. For example, if you sell clothes and a user adds a pair of sneakers to the basket, offer them a tracksuit alongside it.

7. App installation
Black Friday can be a great way to enhance the number of downloads of your mobile app. Send a Push notification on the Web to your users about the mobile app and invite them to download it by offering a discount code.

Ad serving
But why stop at Push notifications?
As already mentioned, Ocamba also offers the option of serving ads.
Upload your marketing materials to the Ocamba platform and connect with Publishers. Ocamba's ad exchange with full machine learning capability will enable you to serve advertisements in those places and to those users for whom they will be the most important.
Through Ocamba, you can serve advertisements to users who were previously interested in a particular product or service. Or, if you offer free shipping for specific regions or countries, you can show it in the advertisement to people who come from those areas.
Make sure that when creating an ad, you mention a key term in it. This means that if you offer a discount, make the discount amount highly visible in your ad.
Read how to monetize your assets even if you don't have products to sell
As you have read above, Ocamba offers you two apps - Push notifications and Ad Exchange. However, Ocamba's uniqueness lies in the next-gen synergy of these two apps. What Ocamba essentially allows you to do is to serve Ads through Push notifications.
You are the owner of a very influential blog about healthy food and exercise, and you want to earn extra bucks for Black Friday. Don't you think that a company that sells sports equipment would gladly pay to advertise to your audience? Or, by contrast - if you were that sports equipment company - what better place would you go to find a more valuable audience, which you can contact directly?
What you can do is invite advertisers to automatically bid on sending Push notifications to your blog's audience by connecting to multiple Ad exchanges. This is a win-win situation for you and the advertiser, who will expand the ad reach and possibly increase sales and boost their revenue.
Conclusion
Finally, remember when working with Push notifications, you should not send "one size fits all" notifications to all users.
Your Ads and Push notifications must be explicit, long enough to inform customers about the sale, but not so much as to deter buyers from buying. Just try to stick to the right message you want to convey, and it will lead you to the best possible outcome.
We hope this Guide will help you better plan your Black Friday sale. Web push notifications are an underutilized marketing channel for e-commerce, but top e-commerce brands have successfully adopted them.
Additionally, more and more brands are starting to use Push notifications in their marketing strategy as they offer a wide variety of options for targeting and personalization.
Good luck and happy selling!
Copyright © Del Systems
×