Improve your
Ad fill rates
and boost your revenue
Automated bidding system for buying and selling advertising as an efficient and cost - effective tool where you can track all the information about:
AD REQUESTS
WIN RATES
VOLUME
And monetize a wider audience.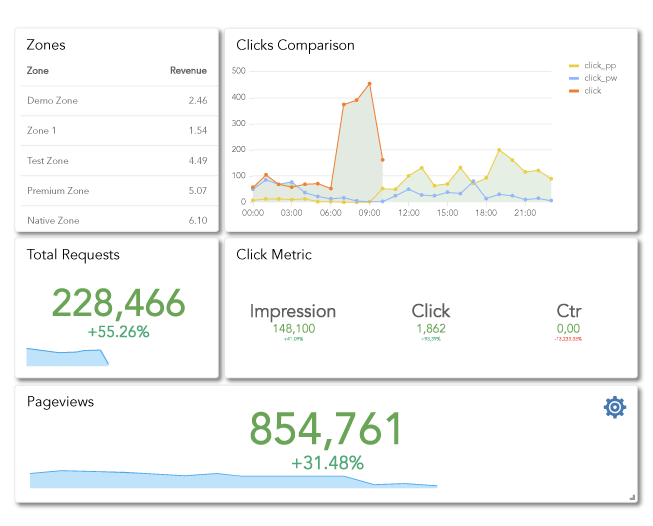 Adex Dashboard
The dashboard visually represents the success rates for advertisers competing over your Ad space, revenue per Website, click comparison per hour, impressions and clicks per campaign, GEO, OS, browser, keyword, and many more.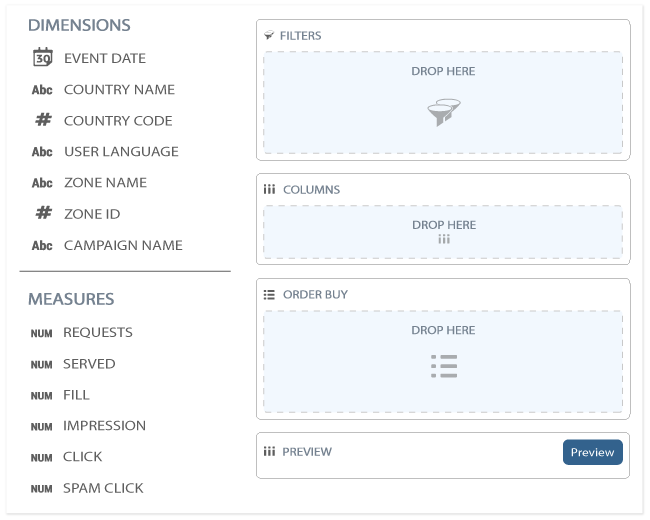 Designer - Custom Reports
Designer - Custom reports for a more profound and precise analysis of your campaign success.Measure and compare by days - impressions, clicks, spam clicks, CTR, revenue, expected income, and expense for each domain, campaign, country, city, demand partner, OS, browser, IAB category, event, user language, etc.With a simple drag and drop, you will create the perfect strategy. It has never been easier!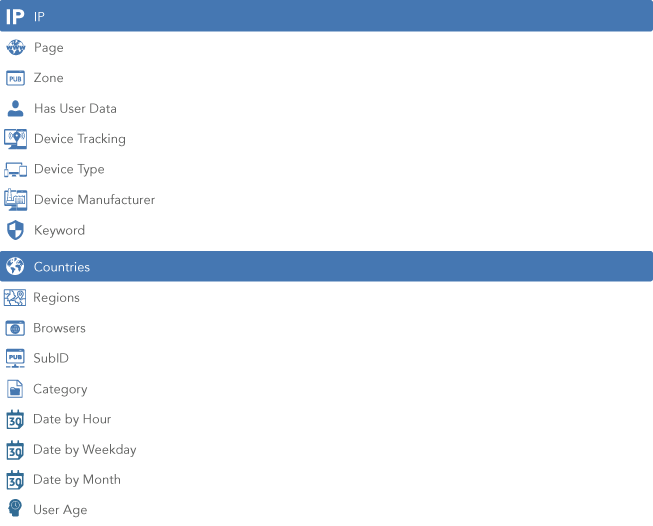 Targeting Segments
To achieve a real impact with the ads shown to the audience- segment the group of people who should see your ad campaigns and reach that fragment of users that fit your needs.Choose any segment: Country, Region, Browser, Device, OS, Custom user data, IP, Referrers, Category, Page, Keyword, Time, Date, etc.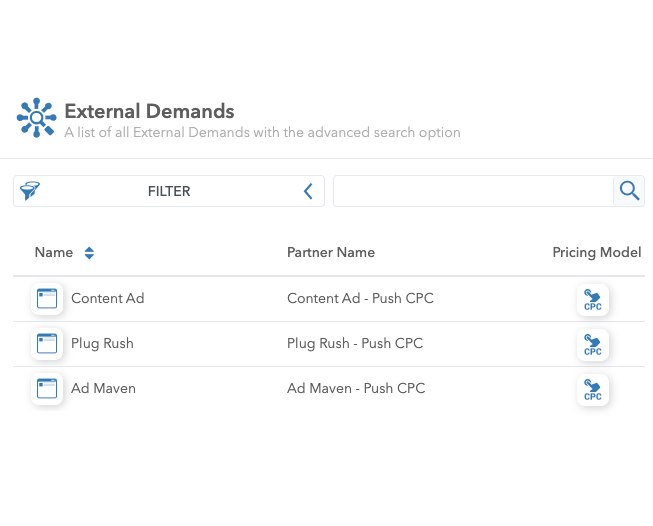 External Demand
Selling Ad space to External Demands is crucial for monetising your website and increasing revenue.We offer existing integrations through Ocamba with the industry's largest names like Taboola, Zeropark, AdMaven, AdSterra, MyBestClick, AdCash, etc.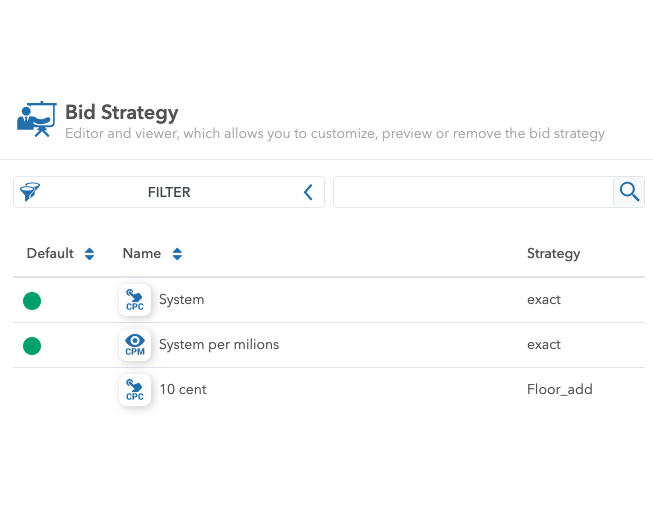 Bid Strategies
A bid strategy is designed to set the minimum and maximum value for each ad space available.At the time of the auction, our automated algorithm will find an adequate offer based on your defined rates.The strategy helps you maintain or increase the estimated revenue.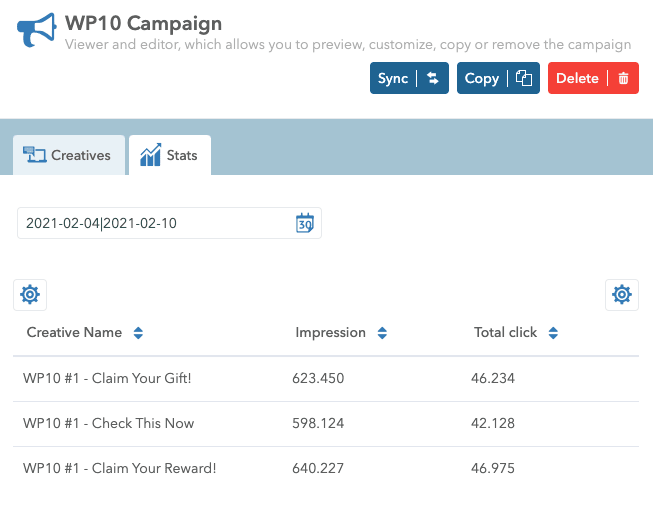 A/B testing
A/B testing will help evaluate and adjust the marketing strategy by showing creatives that have the highest reach and conversion for your audience.Experiment with different content, action buttons and timing to gain insights and determine which one is the winning combination.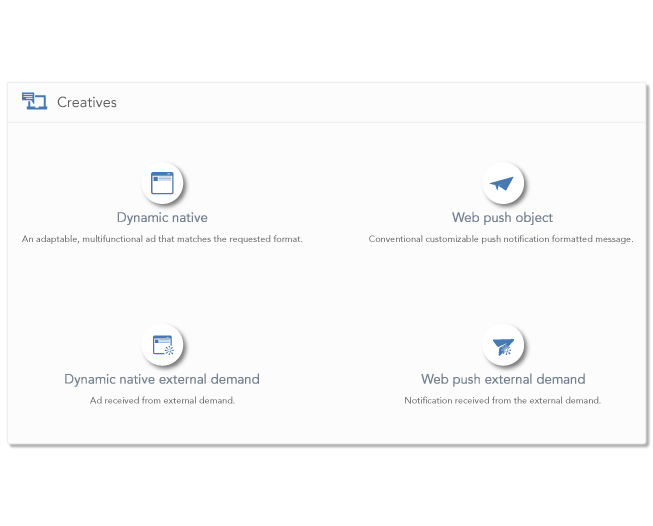 Ad Campaign Creatives
Create different Ad campaigns for different formats- display, native, push, widget, smartLink.Internal - custom content for text, image, URL, badgeExternal - content from the selected External demand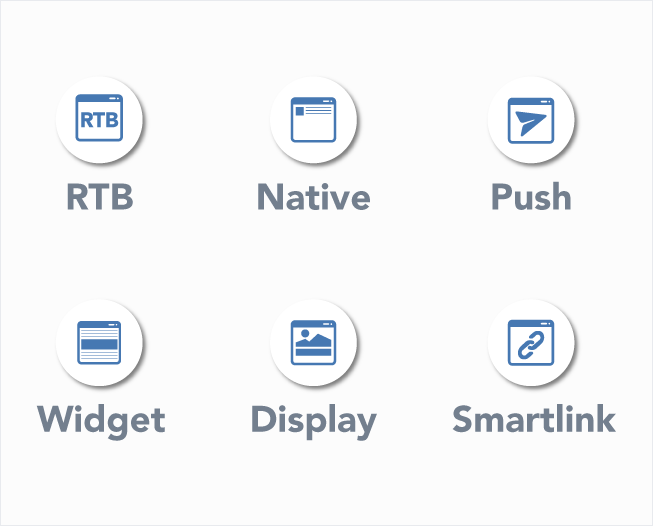 Ad Zones
Present to the audience display ads in different formats where you can choose, customize and adjust media formats, including text, image, audio, and video.Type of Ads: Native, Push notifications, Widgets, Display and Smartlink.
Exclusive Features
Do you need that special something?
Please take a look at our offer for premium users only!
Multi-Currency
Our advanced software allows you to do your business in multiple currencies.
Insert your bid, form your strategy, or set campaign limits at any currency you wish, without worrying who will keep an eye on all those digits and exchange rates, we will do it - no mistakes!
Dedicated Account Manager
Get your service assistant to help with optimization, process improvements, implementations, and every inquiry to maximize your performance.
Providing you with answers and support is very important to us. We do listen, and we are happy to provide you personal service!
White Label Solution
Get our service and technical capabilities with your brand's personalized - themed interface directly, all without any technical setup from your side.
Get that prestige of software customized for you while achieving advanced performance to partners or potential clients.
Contact us for a personalized walk-trough of OCAMBA platform!
Copyright © Del Systems